TDU: Stuart O'Grady To Take Reins From 2021 As Mike Turtur Steps Down
Stuart O'Grady will be Race Director for the Santos Tour Down Under from 2021 following the announcement of inaugural Race Director Mike Turtur's retirement at the end of the 2020 event.
 
As a former winner of the first Santos Tour Down Under and of course Paris-Roubaix, O'Grady brings over 19 years of professional cycling experience to the race.
 
"My appointment to this role really is the pinnacle in my career," O'Grady said.  "I have lived my life and career with the international cycling community, so this is a defining professional and personal moment for me. I'm excited that I will be delivering a race in my hometown, with one that I competed in, won and have watched grow its cycling participation and fan-base over the years."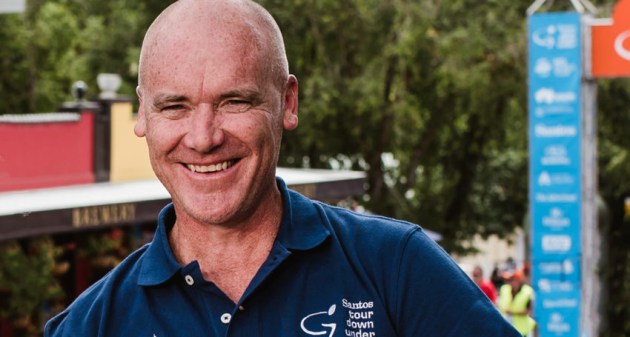 He added it was a privilege to call himself Race Director of the Santos Tour Down Under from 2021.
 
"I am looking forward to developing my vision, and a creative race that will lead to the ongoing growth of the men's competition and to the overall race itself."
 
"Obviously Mike is a huge part of this race, the professional cycling community and the Santos Tour Down Under. He has a lot of learned knowledge that I will be hoping to capture during my time with him over the next few months" said Stuart.
'Important For The Future'
 
Outgoing Race Director Mike Turtur said the appointment was an important one for the future. 
 
"We needed the right person, experience, fit, and someone who had an appetite to deliver a vision and really embrace the race with their own personality and someone ready to put their own stamp on it."
 
Mike added that Stuart showed incredible passion for the role. 
 
"He has terrific experience, networks and relationships globally, which will also bring new opportunities to the race and for South Australia."
 
"Stuart's enthusiasm and energy and his desire to keep evolving the event as Australia's Greatest Cycling Race and one of the most respected races on the WorldTour Calendar is a key ingredient to the success of his appointment," said Mike. 
 
Stuart will start work in December and will work closely with Mike over the coming months leading into the 2020 race. Mike will stay on in a mentoring role for 12 months through to the 2021 event.
 
About Stuart O'Grady
 
A former two times World Champion on the track, Stuart O'Grady rode in 6 Olympic Games, and won four medals in total. He competed in the Tour de France 17 times and he wore the yellow jersey of GC leader at the TDF in 1998 and 2001. O'Grady also competed in the Paris-Roubaix 17 times, and his biggest career win came in 2007 as the first Australian to take first place at the one-day road race in Northern France.
 
He also competed at 3 Commonwealth Games, 2 World Championships and was the Race Director for Revolve24, a 24-hour endurance bike race in 2019 (which he will also fill in 2020).
 
O'Grady  is the current President of the South Australian chapter of the Australian Olympic Committee.
O'Grady is a two-time winner of the Santos Tour Down Under, winning the inaugural race in 1999 and won the race again in 2001.