TDF: Richie Porte Says Paris Podium Is 'An Absoloute Dream'
"I grew up watching the Tour on the other side of the world, seeing guys like Robbie McEwen, Cadel Evans, and Brad McGee. To finally crack the podium here is an absolutely incredible feeling."
The words of Richie Porte, the much-loved Tasmanian who's name is now etched alongside his three childhood cycling heroes as an all-time great of the sport.
Riding his 15th Grand Tour and 10th Tour de France, 35yo Porte has relished in the form of his career throughout the 2020 edition of the world's greatest race.
Leapfrogging his previous best overall placing of 5th in 2016, Porte went into the penultimate stage in 4th overall, some 100 seconds from a coveted but ever-elusive step on the final podium in Paris.
Powering through the uphill time trial of his life, it soon became obvious that Porte was putting in one of the most powerful efforts of his 10+ year pro career.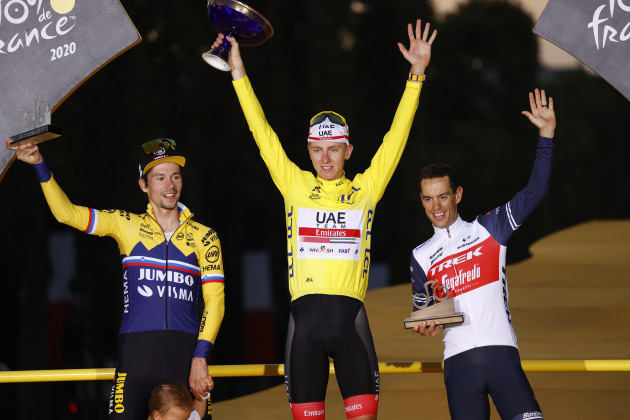 An Absoloute Dream
"For me, it's an absolute dream," Richie said at the post-stage press conference.
"It's going to take a little while to sink in, but, you know, it's been a journey. Most of you know the battles that I've had, the dramas along the way," said Porte, who crashed out of both the 2017 and 2018 Tours. Absolute heartbreak - 5th place in 2016, then crashes out of the race on Stage 9 of the following two editions.
After Sunday night's podium presentation in Paris Porte said it was an experience he'd never forget.
"To stand on the podium in Paris is just unbelievable," he said. "It was so nice to be up there with two champions. It's a moment I will savor for the rest of my life."
"This result just caps everything off – I've had some bad luck over the years, so it's finally nice to have a three-week race where everything goes to plan," continued Porte. "The Stage where I really started to believe was the Grand Colombier. Obviously, the Slovenian guys were the strongest there, but I was third."
"And the time trial yesterday was one of the best I have done in my career. It's just been such a journey. I am just so happy to finally be on the podium of a Grand Tour."
"I said to my wife that the photo that I want to have when I retire is the one standing on the podium in Paris," Porte continued. 
"It doesn't matter what races you have won, the Tour's the one you are judged on. 
Porte finished the Stage 20 36km time trial in 57min 16 seconds to finish third overall on General Classification. He now only needs to safely get through the ceremonial final stage into Paris to finally stand on that podium and get the photo he promised his wife.
After the critical TT Porte said he "kind of knew" he'd be able to gain some time and inch closer to third overall.
"But there's always going to be those lingering doubts in the back of your mind," he added.
"Once I started getting time checks and they were saying with 3km to go 'Richie, you're going to get your dream'... that was such a sweet moment."
Bicycling Australia Will Have Full Coverage Of The Final Stage Into Paris - Stay Tuned To Our Wesbite And Socials For Updates