Paris & France Now Ready To Ride On Zwift
Online training platform Zwift have opened the new Paris & France maps to all users, the maps featuring virtual versions of such famous French destinations as the Champs-Élysées and Mount Ventoux.
The new maps include the following routes -
Champs-Elysees (6.6km, 39m): the famous Tour de France finishing sprint.
Lutece Express (6.6km, 39m): an immersive training experience on the urban roads of Paris.
Casse-Pattes (22.9km, 155m): roll through the flatlands before ascending the switchbacks up to the hilly KOM. After a fast and furious descent, hit the Marina for a mad-dash finish.
Douce France (24km, 133m): roll past stunning chalets, seasides, and sunflowers. The sights and sounds of France are all around you. It's a sweet route, but there is some sting in it too.
La Reine (event-only, 22.8km, 1,181m): enjoy the river road, Balloon Field, and Petit KOM before climbing Mont Ven-Top up to Chalet Reynard.
Petit Boucle (60.8km, 483m): This little loop takes in all the roads of the valley in both directions.
R.G.V. (24km, 133m): a high-speed sprinter's course that traverses the flatter roads of the French countryside.
Roule Ma Poule (22.9km, 155m): get ready to roll on this undulating course. Take the direct route up to the hilly KOM, descend the switchbacks, and then traverse the flatter countryside.
Tire-Bouchon (60.8km, 483m): this route heads straight up to the hilly KOM before corkscrewing its way around the valley. 
Ven-Top (20.8km, 1,539m): the shortest route to the legendary summit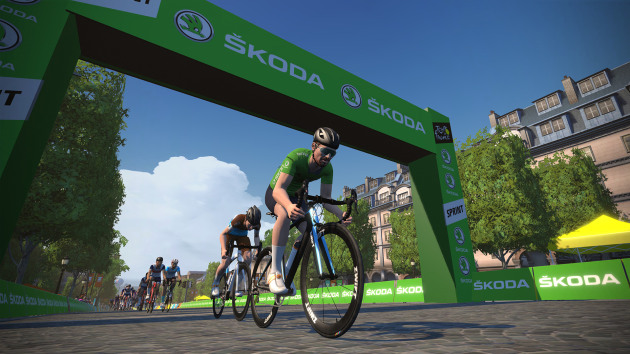 Zwift say the France and Paris maps have been designed specifically for the Virtual Tour de France.
"The French map takes inspiration from the country and should evoke strong connections with the country as Zwifters pass through vineyards, over Roman aqueducts and through Sunflower fields," said a spokesperson. "The new map also plays host to a virtual replica of Mont Ventoux. Zwift's Mont Ven-Top, meaning snowy peak in gallic, is a punishing climb that is sure to test the legs of any rider."
"The Paris map is a smaller world, taking in the finishing circuit we've all come to associate with the final stage of the Tour de France. Zwifters will be able to ride around the famed Arc de Triomphe, navigate around the Place de la Concorde and sprint down the cobbled Champs-Élysées just like the best sprinters of the Tour de France. Zwifters will be able to join events on the new maps during the Virtual Tour de France."